So this is my entry to XcatherinesbombX's Moulin rouge themed contest.
The prizes up for grabs are seriously amazing! tons of mac aswell as 5 glamourdoll eyeshadows!
Basically i decided to do something a little bit different to some of the other entrys, and took my inspiration from the green absinthe fairy, although i think im going to enter a more classic look aswell. I'l post a list of products used aswell as some photos below. Enjoy!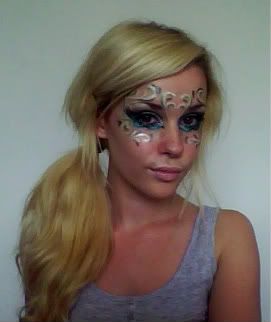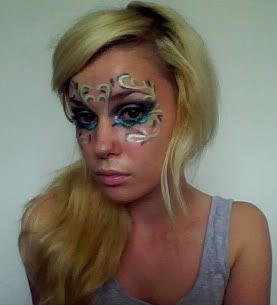 -Natural collection eyeliner in White
-Primark liquid eyeliner
-2true eyeshadow dazzler in no. 5
-Dark green primark eyeliner
-Green face paint
-Sleek curious pallette (review soon)
-Sleek storm pallette
-Natural collection moisture shine lipstick in apple blossom
-Rimmel vinyl gloss in crystal clear
-Sleek ink pot in dominatrix
-Benefit badgal lash mascara
-Givenchy phenomen'eyes mascara
-Stargazer white UV glitter